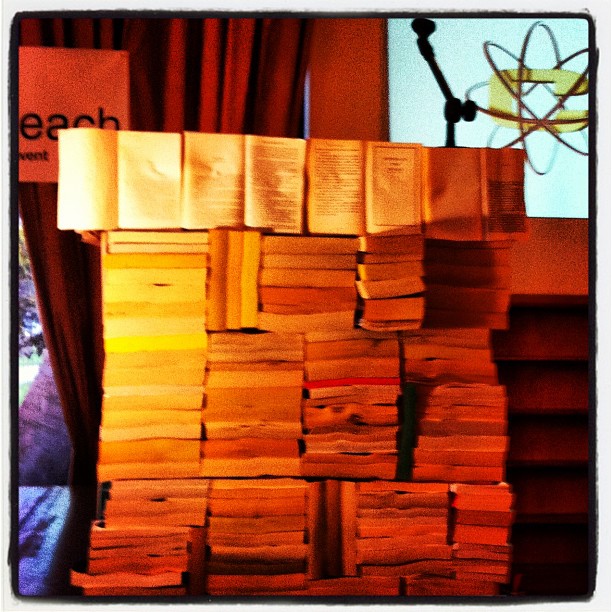 TED (www.ted.com), the live platform for ideas of all kinds has spread to local chapters. TEDx events are offshoots independently organized but sanctioned and assisted by TED. I went to a TEDx in my beach city tonight, and it was great. Not only was the venue amazing (It was the city's old library that I had never been in before. A view of the Pacific Ocean and cool architecture.), but so was the food and the program.
The topic was "Words, books and art have documented lifestyles over time, but those records are being transformed due to technology, shifts in supply and demand, transitions from one school of thought to another, and alterations in customs and habits."
The speakers were an artist who uses books as physical objects to create with (Lisa Occhipinti who created the book podium above), antique bookseller Jeff Weber who described the struggles book sellers face with the internet and ebooks so accessible, museum curator Max Presneill who passionately advocated that we go to indie galleries and support emerging artists, and author Susan Straight who is an awesome storyteller in person and in print.
We also viewed two videos of TED talks that were very inspiring to me personally. One was of book cover designer Chip Kidd http://bit.ly/HXSFGH and the other was of transmedia designer Shilo Shiv Suleman http://bit.ly/zhcS2G
TED is such an incredible forum. For years I've lamented that musicians and actors get all the spotlight, and while I love me those types of rockstars, it's about time that some other types of earth shakers get some kudos. TED elevates creativity and intellect and makes scientists, writers and artists rock stars.
I'm looking forward to TEDx UCLA next month.
Photo ©2012 Nancy Steinman