SAG INDIE
MAGAZINE ADS
These ads for SAG INDIE, a division of the Screen Actors Guild, celebrate
20 years of helping independent filmmakers.
THE WALKING CONNECTION
MAGAZINE ADS
All too often people return from a trip feeling like they need another vacation. These guided walking tours are positioned as the antidote to loaded itineraries and fast-paced lifestyles.
JBX GRILL (JACK IN THE BOX)
MAGAZINE ADS
SAMSUNG PEBBLE
INTEGRATED CAMPAIGN
With only 1GB of storage and no screen, the Pebble is as limited as music players come, but its style is undeniable. Microsite shown in DIGITAL.
24 HOUR FITNESS
INTEGRATED CAMPAIGN
Fitness clubs are everywhere, but most people don't stick with it. We challenged people to look inside and find their personal reason to work out. Microsite and phone app shown in DIGITAL.
CALIFORNIA DEPARTMENT OF HEALTH SERVICES
OUTDOOR
When the tobacco industry lost their bid to advertise products outdoors in Los Angeles, they were court-ordered to turn their billboard leases over to the state for anti-smoking messages. The creative solution was a punch in the eye.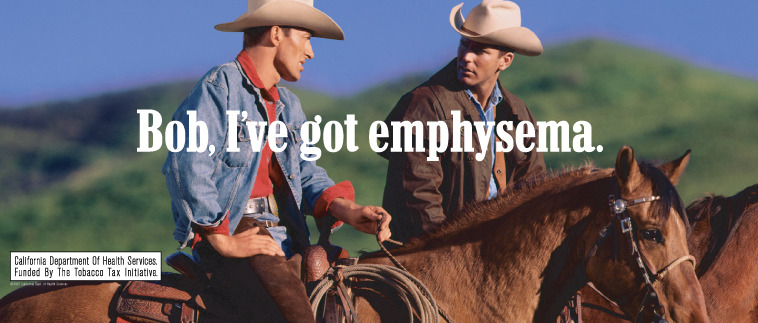 IKEA
BUS & TRAIN WRAPS
What better way to announce a new IKEA store than to show the breadth of its product line using "mobile homes".
EVELYN WOOD SPEED READING
INTEGRATED CAMPAIGN
The original speed reading program updated for the current zeitgeist. Almost anyone you ask will say they'd like to be able to read faster, but will they commit time and money? Remind them how often they've left a great book or relevant article unfinished, and the value of being able to read fast becomes quite clear.